William Laud
Archbishop and martyr
d. 10 January 1645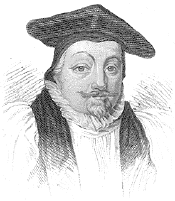 William Laud lived much of his life in the days of King Charles I. It was a turbulent time throughout, one of violent divisions in the Church of England, eventually culminating in the English Civil War. One the one hand were the Roman Catholics, who urged a return to ecclesiastical direction from Rome. On the other were the Calvinists, who regarded most aspects of traditional Catholic worship and organization as idolatry.
Born in 1573, Laud was sent from the free school in his birthplace of Reading to St John's College, Oxford. Created a Fellow of St John's in 1593, ordained in 1601 and appointed a Proctor in 1603, Laud spoke out strongly against the Calvinist leanings in the University, and outspokenly maintained that there could be 'no true church without diocesan bishops'. A sermon he preached on these lines at St Mary the Virgin resulted in a reproof from the Vice-Chancellor. In 1611, however, Laud was appointed President of St John's despite opposition from the Calvinists, who maintained that there had been irregularities in his election.
After a subsequent attack upon him in a sermon at St Mary's by Robert Abbot, Master of Balliol, Laud seems not to have been sorry to leave Oxford when appointed Dean of Gloucester in 1616. In 1621 he became Bishop of St David's in Wales. Enjoying the regard and favour of James's successor, Charles I, he subsequently became Bishop of Bath and Wells in 1626, in 1628 Bishop of London, and in 1633 Archbishop of Canterbury. He had by then already, in 1629, been appointed Chancellor of Oxford University. As Chancellor he immediately made it clear that he intended to bring the University closer to the Church and to restore discipline by such decrees as those concerning examinations and academic dress. In 1636 his body of statutes, know as the Laudian code, was accepted by convocation.
An example of a practice causing enormous dissension is the wearing of the surplice. In the late 1500's and early 1600's, there were Christians in England who objected to this garment. When participating in the services of Morning and Evening Prayer in Church, clergy, including choir members, normally wore a cassock (a black, floor-length, fairly tight-fitting garment) covered by a surplice (a white, knee-length, fairly loose garment with loose sleeves). The Calvinists objected to the surplice (a) as not mentioned in the Bible, and (b) as something that the Roman Catholics had worn before the Reformation. Archbishop Laud regarded it as a seemly, dignified garment, an appropriate response to the Apostle Paul's injunction, "Let all things be done decently and in order." The Calvinists stood by their objections, and violently interrupted services at which the surplice was worn.
Under English Law, it was part of Laud's office as Archbishop to maintain order and to punish offences against the peace of the Church. He made it his practice to proceed not only against poor and obscure offenders, but also, perhaps especially, against rich and powerful ones. It is well that men should be equal before the law, but his integrity on this point ultimately cost Laud his life.
Laud made enemies chiefly in three ways. (1) He punished those who attacked the Church, both those who vandalized and those who merely scolded. (2) He upheld various customs in public worship (such as the wearing of the surplice) that were harmless in themselves, but which aroused the suspicion and fury of those who feared a return to power of Roman Catholicism. (3) He sought the financial independence of the clergy, so that a priest was not dependent on what support the local squire was pleased to give him. His proposed means to this end was to restore to the Church some of the Church lands that had been seized by Henry VIII and given or sold to various nobles and gentlemen. The proposal never reached the stage of discussion about details, so it was not clear how compensation would be handled, but the mere whisper of such a proposal was enough to make every landholder in the country feel personally threatened.
In 1637 an attempt was made to introduce the Book of Common Prayer into general use in Scotland, and it immediately caused rioting. In February of 1638, Scottish leaders signed the National Covenant, by which they pledged themselves to uphold the Puritan position by force, and by the end of the year they had voted to depose and excommunicate every bishop in Scotland. The unrest spread to England, and in 1640 Laud was arrested on a charge of high treason. He was kept in the Tower for four years, and tried in 1644, at the age of seventy-one. He was found guilty, not because there was any evidence of his guilt, but because the House of Commons was determined that he should die. On the scaffold he prayed: "The Lord receive my soul, and have mercy on me, and bless this kingdom with peace and charity, that there may not be this effusion of Christian blood amongst them."
Acknowledgements:
Text adapted from James Kiefer's Christian Biographies
Image from Britannica Biographies