Worship the LORD with gladness; come before him with joyful songs.
Psalm 100: 1-3

Hrvoje Peric,
Choir Director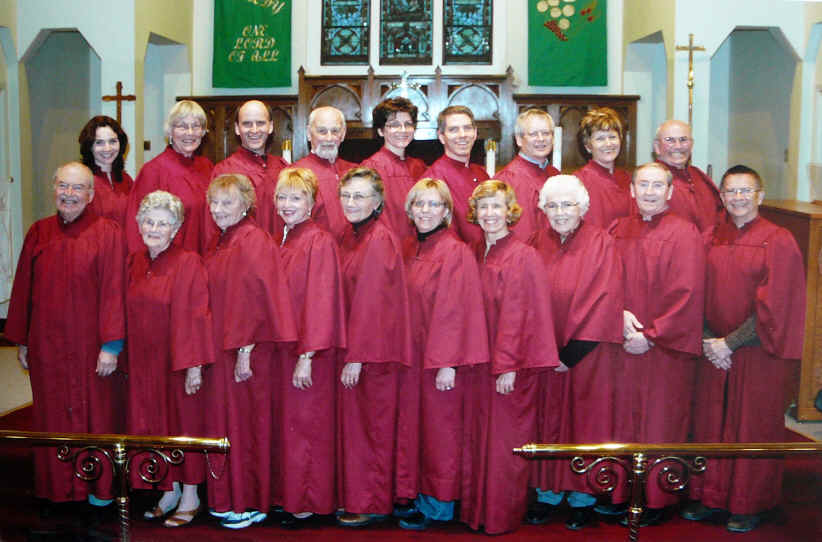 | | |
| --- | --- |
| Our purpose: | To lead in the music of worship to the glory of God. |
Director:

H

rvoje Peric

Choir Prayer
Practice:
Thursdays, 7:15 pm
The Church of Saint James the Apostle was established in 1876 as a small country parish in the Diocese of Ontario. The choir was formed ten years later, and in 1896 the parish became part of the newly established Diocese of Ottawa.
The names of the early organists are intertwined with parish history. Among them was Miss Annie Tomkins (of the family after whom Tomkins Hall is named). She married Mr. Johnson Clapp, after whom Clapp Lane is named. Over the years we have been blessed with caring and able choir directors and members who have helped to build and maintain a strong musical presence within the parish. We welcome new members and hope that they in turn will help to 'lead in the music of worship to the glory of God'.
The choir is a group of committed Christians, a part of the parish family, whose aim is to provide a musical setting for the worship of God. When we sing at a service, we are not 'performing'. In this context Saint Augustine said, "Anyone who sings, prays twice." Of course we try our very best to be excellent musically, but that is only a means to an end; our efforts should reflect our belief, not simply a desire to perform at a high technical level.
Most of the choir's efforts are devoted to the Holy Eucharist, also known as Holy Communion, the Mass, or the Lord's Supper, celebrated every Sunday. Every Eucharist is a remembrance and celebration of Easter; we commemorate Christ's sacrifice in crucifixion and his resurrection.
The Choir family is a welcoming, supportive group. During the year we get together for two or three social activities such as a summer barbeque, pool party, Christmas party etc. We remember birthdays and other celebrations of our members by signing and giving cards. If anyone (or a member of their family) is sick, we make sure to send a card or flowers. We remember our choir family when we are on vacation by sending postcards. We try to keep communications open by keeping in touch with members we may not have seen for a while.
As members of the wider congregation, the choir takes part in such activities as the parish picnic, garage sale and Christmas Fayre. Members of the choir also act as lectors and Eucharistic Ministers and in other worship activities as the service requires.
Choir members also take part in community events such as Dickinson Days, Christmas in the Village and in the Manotick Musicale. We assist in fun/fund-raising for the Parish by putting on or arranging musical presentations.
The Choir sees itself as a family within the family of the Parish of St. James the Apostle, Manotick, a loving, sharing, caring and inclusive community. New members are always welcome. If you're interested in participating, don't be shy! Join us at one of our practices on Thursdays at 7:15 pm.

July 19, 2009: Wayne Whitney plays

Prelude and Fugue in F major

- J.S. Bach

(Note: To play this, scripting must be allowed on your web browser. More information is given here.)
Easter 2010

:

Rejoice!

sung by the Saint James' choir directed by Hrvoje Peric

(Note: To play this, scripting must be allowed on your web browser. More information is given here.)