George Herbert
Priest and Poet
d. 27 February 1633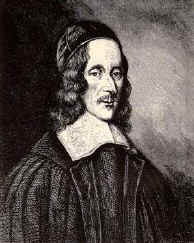 At a period when the excesses of Renaissance England were often too evident, the quiet, scholarly life of George Herbert was as welcome as were his graceful lyrics. He was born in Montgomery, Wales, on April 3, 1593, the fifth son of Richard and Magdalen Newport Herbert. After his father's death in 1596, he and his six brothers and three sisters were raised by their pious mother, patron to John Donne, who dedicated his 'Holy Sonnets' to her.
After taking his degrees with distinction at Trinity College, Cambridge, Herbert was elected a major fellow of Trinity; in 1618 he was appointed Reader in Rhetoric at Cambridge, and in 1620 he was elected public orator. It was a post carrying dignity and even some authority: its incumbent was called on to express, in the florid Latin of the day, the sentiments of the university on public occasions. In 1624 and 1625 Herbert was elected to represent Montgomery in Parliament. In 1626, at the death of Sir Francis Bacon, (who had dedicated his Translation of Certaine Psalmes to Herbert the year before) he contributed a memorial poem in Latin.
In 1629, Herbert married his step-father's cousin Jane Danvers. What the Brontės were to the nineteenth century, the family of George Herbert was to the seventeenth century-an extraordinary domestic group that made familial struggles into the subjects of their art. This family of writers included an admired patron (Magdalen Herbert Danvers), a regicide (Sir John Danvers), a philosopher and poet (Edward, Lord Herbert of Cherbury), a courtier and dramatist (Sir Henry Herbert), a sea captain and poet (Thomas Herbert), and George Herbert himself.
Herbert could have used his prestigious post of orator as a stepping-stone to high political office, but in 1626 he gave up his secular ambitions and took holy orders in the Church of England, becoming vicar and then rector of the parish of Bemerton, near Salisbury. He served faithfully as a parish priest, diligently visiting his parishioners and bringing them the sacraments when they were ill, and food and clothing when they were in want. He read Morning and Evening Prayer daily in the church, encouraging the congregation to join him when possible, ringing the church bell before each service so that those who could not come might hear it and pause in their work to join their prayers with his.
He used to go once a week to Salisbury to hear Evening Prayer sung there in the cathedral. On one occasion he was late because he had met a man whose horse had fallen with a heavy load, and he stopped, took off his coat, and helped the man to unload the cart, get the horse back on its feet, and then reload the cart. His spontaneous generosity and good will won him the affection of his parishioners. A Priest to the Temple (1652), Herbert's Baconian manual of practical advice to country parsons, bears witness to the intelligent devotion with which he undertook his duties as priest.
Herbert had long been in ill health. On his deathbed in 1633, he sent a manuscript of poems entitled The Temple to his friend Nicholas Ferrar, asking him to publish the poems only if he thought they might do good to "any dejected poor soul." They were published after Herbert's death, and met with enormous popular acclaim, running to 13 editions by 1680. Carefully arranged in related sequences, the poems explore and celebrate the ways of God's love as Herbert discovered them within the fluctuations of his own experience. They have influenced the style of later poets, including Samuel Taylor Coleridge. Several of them have been used as hymns, in particular "Teach me, my God and King," and "Let all the world in every corner sing."
Acknowledgements:
Text adapted from James Kiefer's Christian Biographies, Luminarium, Renaissance Literary Studies (no longer available)
Image from Fu Jen Catholic University