"All Are Welcome"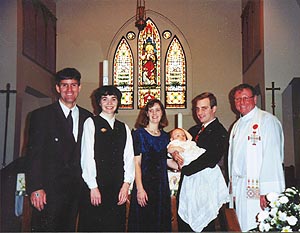 One of the best parts of being a member of a young and growing congregation is welcoming new members. The parish of St. James did just that on November 8, 1998 when Hannah Grace Shakell and Nicholas Liam ffrench Cooke were christened. The church was alive with many young people who were on hand to greet the newest members of the church family. The brothers and sisters of the newly baptised helped Father Rick Marples by anointing the babies with oil and holding the baptismal candles. Father Rick then asked all the children of the parish to come forward at the end of the service to place the two new names on the banner that proudly displays the names of all the children in the St. James church school. It was truly a joyous occasion.

In the picture above (left to right) are parents Bruce Cooke and Pamela Best, godparents Katie and Walter Lichtenberger, with Nicholas between them, and Father Rick Marples.

Rick Marples inducted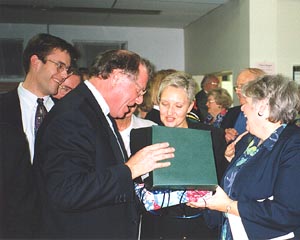 Although Father Rick had begun his ministry at Saint James' on 23 August, the community had the opportunity of giving Rick and Judy an official welcome at the induction service on 18 October. The officiant was Archdeacon Archie Hunter from the Church of Saint John the Divine, Slack Road, and the sermon was preached by Rev. Peter Lackey of Holy Trinity Church, North Gower. Especially welcome in the congregation were Allan and Gail McGregor; Rev. Allan McGregor, who read one of the lessons, is our former parish priest.
The service was followed by a parish party in Tomkins Hall at which Rick and Judy were, of course, the centre of attention. Shown in the photo are the happy pair being presented a gift by Churchwarden Debbie Belanger. Looking on with approval is Synod representative Jarrett Carty.
The new organ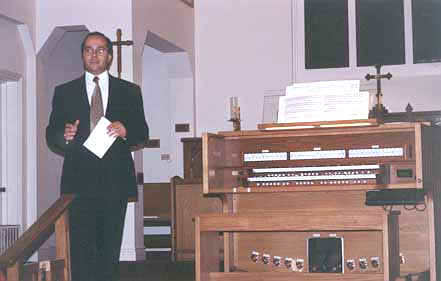 Tuesday, 15 September saw the initiation of the new Rogers electronic organ at Saint James' Church. On that evening, Mr. Dan Amorim gave parishioners a demonstration of its virtuosity and sound quality through a concert of the music of composers including Bach, Mendelssohn and Clarke. In addition to its wide range of organ settings, it has a MIDI attachment which produces the sounds of a full orchestra. Our organist, Wayne Whitney, is very pleased both with the quality of sound and the range of instruments which can be simulated.